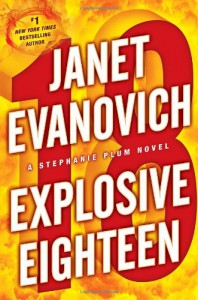 Explosive Eighteen: A Stephanie Plum Novel
I am most certainly not an author and I would never presume to tell an author what to do especially one with so large a library under her belt. But I've been reading the reviews and rants about this book and the way the series is going and something about this reminds me of the old TV series "Moonlighting". It was a great series until the script writers gave in to the fans and gave Maddy and David a relationship. We all know how that worked out right?
Ms Evanovich seems to have written herself into a corner. None of the fans are going to be be happy anymore. We are unhappy if Stephanie does not pick one to sleep with, and we are unhappy because she is picking too many to sleep with. Unfortunately, in this particular book Stephanie has become a "Joyce Barnhardt" type character and seems to be sleeping with anyone at anytime and anywhere.
Somewhere along the line, Stephanie has lost her scruples and I think that is what is bothering me the most. None of the characters has grown at all after 18 books, and that certainly does say something about this series. I agree with my fellow reviewers that the guys have to take a step back. The men were treated like objects instead of worthwhile humans in this episode. Actually, most of the characters in this book didn't ring true to me. They all seem to have undergone some sort of change and none of the fans saw it coming. Stephanie's mother is turning into a lush, her father is no longer hiding behind his newspaper but is almost participating in the family (actually I liked that part) the guys seem to have given up, her Grandmother seemed almost docile. Even the crew at Vinnie's didn't seem to be themselves.
While I do not want to see Stephanie lose them both, something is going to have to give in Stephanie's private life and no matter what path Ms Evanovich chooses for Stephanie she is going to alienate some of her fans. Unfortunately, the story line was weak, convoluted, and even confusing at times. I miss the days when Stephanie had weirder but a little less lethal skips to go after and people less apt to be trying to kill her. I have to admit that Stephanie finally seems like she took a step in the right direction by agreeing to arm herself better
All in all this series has gotten neither better nor worse. It has stagnated and I can't see how Ms Evanovich can ever pull this out of the hole it's in. We can't go back and Stephanie and crew may be what the fans like even less if she moves forward.
Now how many people think she could be preggers?