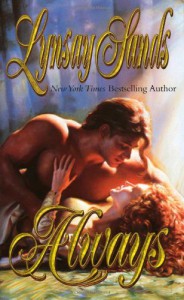 I was asked to review this book and was thrilled at the time because I didn't know that this was a re-print. Most of Lynsay Sands books are fresh and humorous, but with this book, except for a few passages, this book was not fresh or humorous. Perhaps at the time it was written it was, but I don't feel that this book withstood the test of time.
The characters are one-dimensional and clichéd. Bossy, male (yes I'm sure this was historically accurate, but that was then, the author is writing for the 'now') overly jealous male. Heroine stolen (almost) out of a nunnery getting ready to take her vows in the next couple of days---this leads to a very trite heroine. Yes there is the inevitable happily ever after, it is a romance after all, but for the life of me I cannot see exactly how they got there.
This book did start out with some funny moments and there were some more sprinkled throughout, but not enough to hold my attention.
*ARC supplied by publisher for reviewing purposes.